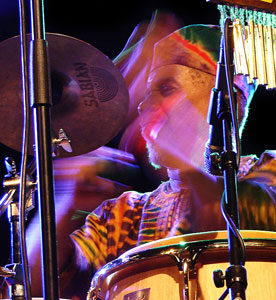 Neil Clarke - African Percussion
Photo credit: © Bob Travis
NEIL CLARKE

Neil Clarke has been a student of percussion for more than thirty-five years. Having traveled extensively, Clarke has had the opportunity to study and collaborate with masters worldwide. His skill has taken him to North, West and South Africa, Latin America, the Caribbean, Europe, Asia, the South Pacific and a majority of the United States.
Regardless of where or what the musical genre: folkloric, jazz, popular, rhythm and blues, gospel or classical he is equally at home. Clarke has had longstanding performing, touring and recording relationships with many notable artists.
In addition to Randy Weston, he has worked with such artists include Harry Belafonte, Onaje Allen Gumbs, Dianne Reeves, David Sanborn, Miriam Makeba, Letta Mbulu, Carlos Garnet, Paul Winter, the Spirit Ensemble, Tulivu Donna Cumberbatch, the late Noel Pointer, the late Arthur Prysock, the Alvin Ailey American Dance Theater, the International African American Ballet, and many others.
Clarke also had the opportunity to perform in the Broadway production of Timbuktu and in the feature film Beat Street, Over the span of his career, Clarke has made numerous television appearances on both network and cable presentations with many of the artists mentioned earlier.

^ Top ^