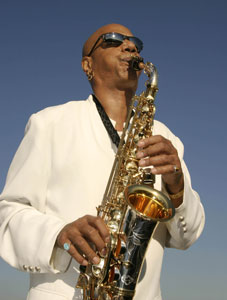 T.K. Blue - Sax and Flute
Photo credit: © Andrew Lepley
T.K. BLUE

Born in New York City, T.K. began playing music in his Lakeview, Long Island hometown as a teenager, and started studying flute at age 17. He took lessons early on from Billy Mitchell, the legendary tenor saxophonist with Count Basic and Dizzy Gillespie, but threw himself headlong into music after receiving a full academic scholarship to New York University. He earned a Bachelor of Arts degree in both Music and Psychology at NYU and later went on to receive a Masters in Music Education from Columbia University.

By the end of I989, T.K. had cemented an enduring, essential friendship with the iconic pianist-composer Randy Weston. Weston was to become the most influential person in Blue's professional career. The relationship that the two developed during T.K.'s years in Paris blossomed to his extended tenure as Weston's Musical Director, which began in 1989 and continues to this day.

Over the years, T.K. has done several tours and has made many notable appearances on Weston's recording projects, including The Spirits of Our Ancestors (1991), which was T.K.'s first major recording as Music Director. This recording provided T.K. the opportunity to play alongside jazz greats Dizzy Gillespie and Pharoah Sanders. Other appearances include Volcano Blues(1993), Saga (1995), and Khepera (1998).

T.K. Blue own recordings:
Another Blue 1999 (Arkadia records)
Eyes of the elders 2001 (Arkadia records)
Rhythm in Blue 2003 (JaJa Records 001)
Follow the Noth Star 2008 (JaJa Records 002)
Latin Bird 2011 (Motéma Music)
A Warm Embrace 2014 (JaJa Records 003)






^ Top ^